FLASKS, DEWAR, LOW FORM, CYLINDRICAL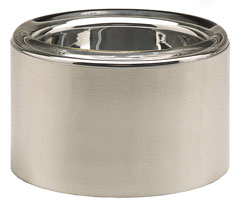 Similar to CG-1590, but with a semi-flat bottom which increases coolant capacity and permits magnetic stirring of contents of vessel. With aluminum base that extends up to the top rim for added protection. Flask size shown is the maximum capacity flask that will fit inside the dewar.
*Prices for this product are not subject to discount.
| | | |
| --- | --- | --- |
| CG-1592-01 | Low Form Dewar Flask, Cylindrical, 150mL Capacity, Fits 100mL RBF, 80mm ID X 35mm Inside Depth, 101mm OD X 66mm Height | EACH |
| CG-1592-02 | Low Form Dewar Flask, Cylindrical, 350mL Capacity, Fits 100mL RBF, 80mm ID X 75mm Inside Depth, 101mm OD X 117mm Height | EACH |
| CG-1592-03 | Low Form Dewar Flask, Cylindrical, 850mL Capacity, Fits 500mL RBF, 130mm ID X 75mm Inside Depth, 160mm OD X 110mm Height | EACH |
| CG-1592-04 | Low Form Dewar Flask, Cylindrical, 2500mL Capacity, Fits 1000mL RBF, 170mm ID X 135mm Inside Depth, 210mm OD X 185mm Height | EACH |