FLASKS, FILTERING, HEAVY WALL, PROTECTIVE COATING*, TUBLATION, GRADUATED, PYREXPLUS®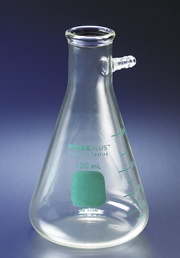 Flask features a protective PVC coating for longer product life and safety. Protective coating helps prevent glass from shattering and reduces spills. Autoclavable (121°C) and resistant to thermal shock. For convenience, the flasks are graduated to show approximate capacity. 10mm tubulation OD on sizes up thru 1000mL. 12.5mm tubulation OD on 2L & 4L sizes. The tubulation is not coated to allow easy connection of standard size tubing.
PLEASE NOTE: DO NOT PLACE OVER DIRECT HEAT OR FLAME. DO NOT HEAT ABOVE 121°C MOIST HEAT OR 110°C DRY HEAT.
Covered By U.S. Patent #4,940,613
| | | |
| --- | --- | --- |
| CG-8516-250 | Flask, 250mL, Filtering, PyrexPlus®, # 6 Rubber Stopper | CS6 |
| CG-8516-500 | Flask, 500mL, Filtering, PyrexPlus®, # 7 Rubber Stopper | CS6 |
| CG-8516-1L | Flask, 1000mL, Filtering, PyrexPlus®, # 8 Rubber Stopper | CS6 |
| CG-8516-2L | Flask, 2000mL, Filtering, PyrexPlus®, # 9 Rubber Stopper | PK1 |
| CG-8516-4L | Flask, 4000mL, Filtering, PyrexPlus®, # 12 Rubber Stopper | PK1 |