ROTARY EVAPORATOR BUMP TRAPS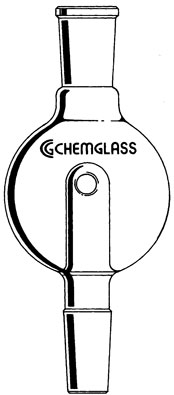 Used between the vapor tube and evaporation flask on a rotary evaporator to prevent contents of the flask from being drawn into the condenser in the event of 揵umping.Traps have a 24/40 top outer joint and the listed size of lower inner joint.
CG-1320 Bump Traps are available Plastic Coated. Contact us for more details.
| | | |
| --- | --- | --- |
| CG-1320-01 | Bump Trap, 100mL, Rotary Evaporator, 24/40 Top Outer, 14/20 Lower Inner | EACH |
| CG-1320-03 | Bump Trap, 100mL, Rotary Evaporator, 24/40 Top Outer, 24/40 Lower Inner | EACH |
| CG-1320-102 | Bump Trap, 100mL, Rotary Evaporator, 29/42 Top Outer, 29/42 Lower Inner | EACH |
| CG-1320-04 | Bump Trap, 250mL, Rotary Evaporator, 24/40 Top Outer, 14/20 Lower Inner | EACH |
| CG-1320-06 | Bump Trap, 250mL, Rotary Evaporator, 24/40 Top Outer, 24/40 Lower Inner | EACH |
| CG-1320-12 | Bump Trap, 250mL, Rotary Evaporator, 24/40 Top Outer, 29/42 Lower Inner | EACH |
| CG-1320-252 | Bump Trap, 250mL, Rotary Evaporator, 29/42 Top Outer, 29/42 Lower Inner | EACH |
| CG-1320-253 | Bump Trap, 250mL, Rotary Evaporator, 29/42 Top Outer, 19/22 Lower Inner | EACH |
| CG-1320-09 | Bump Trap, 500mL, Rotary Evaporator, 24/40 Top Outer, 24/40 Lower Inner | EACH |
| CG-1320-14 | Bump Trap, 500mL, Rotary Evaporator, 24/40 Top Outer, 29/42 Lower Inner | EACH |