DESICCATORS, PYREX®, 10.5L, LARGE TOP, 24/29 STOPCOCKS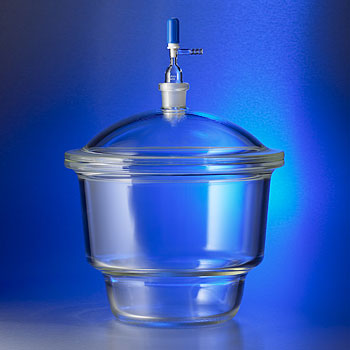 This 5.8L Pyrex® desiccator has a rugged 24/29 standard taper stopcock with tooled hose connections that serve as the vacuum inlet. It is designed so that its manipulation is not affected by the vacuum. To introduce vacuum into the desiccator, loosen the stopcock to disengage the PTFE plug from contact with the glass. A half turn from this position closes the desiccator. This design eliminates the need for grease. The tubulation O.D. is approximately 10mm. Approximate bowl volume capacity is 10,500mL. For replacement bowl see CG-8266-R250LO. For replacement stopcock see CG-8272-RSTPK.
WARNING: Do Not Heat Or Subject To Pressure. Rated 1-Atmosphere Vacuum.