CLS-4950 WATER BATH, SHALLOW, GENERAL PURPOSE, DIGITAL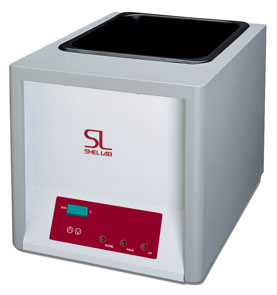 The CLS-4950 Series high-performance water baths are accurate, easy to use, safe and durable. The digital set / digital read P.I.D. temperature controller maximizes rapid heat-up without temperature overshoot. A microprocessor achieves precise temperature control regardless of how the unit is loaded. Calibration is performed directly from the front panel.
It has a unique lid design that allows condensation to drain back into the tank without spilling onto the work area. We have also incorporated a gasket around the water bath tank to prevent water from dripping onto the controls. A warm air jacketed design radiates heat to the sides and bottom of the tank, eliminating hot spots. The unit has a non-contact, recessed heating element that will prevent burnouts if the water level is too low.
The water bath tanks are constructed of stainless steel and do not have seams that could leak. The radius corners of the tank make cleaning easy. The unit's housings have a high quality textured powder coat finish. This electro-statically applied finish not only eliminates rust and chipping but is resistant to nicks, scratches and corrosives. 24 Month Limited Warranty (*excludes tank).
| | | |
| --- | --- | --- |
| CLS-4950-002 | 2L Water Bath, Shallow, General Purpose, Digital, 120V | EACH |
| CLS-4950-002E | 2L Water Bath, Shallow, General Purpose, Digital, 230V | EACH |
| CLS-4950-006 | 7L Water Bath, Shallow, General Purpose, Digital, 120V | EACH |
| CLS-4950-006E | 7L Water Bath, Shallow, General Purpose, Digital, 230V | EACH |
| CLS-4950-014 | 15L Water Bath, Shallow, General Purpose, Digital, 120V | EACH |
| CLS-4950-014E | 15L Water Bath, Shallow, General Purpose, Digital, 230V | EACH |
| CLS-4950-020 | 23L Water Bath, Shallow, General Purpose, Digital, 120V | EACH |
| CLS-4950-020E | 23L Water Bath, Shallow, General Purpose, Digital, 230V | EACH |