CLS-2447-156 INCUBATOR, HIGH HEAT DECONTAMINATION, CO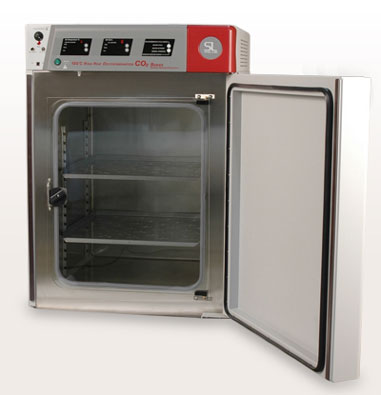 Featuring a dry heat decontamination cycle, this model has the ability to maintain 180°C for 120 minutes. This time/temperature relationship satisfies all global standards for decontamination.
Another important and unique feature is that it is not necessary to remove the IR CO sensor prior to activating the decontamination process. This is a more user-friendly approach and eliminates potential damage to the sensitive IR sensor. This is decontamination at its easiest and most effective.
Other features include a USB interface for software communication and a pre-heated copper CO gas inlet. This exclusive feature prevents condensation and reduces potential sites for contamination to form. Precise temperature control is achieved via an advanced microprocessor. An independent over-temperature safety controller is also integral to the design.
· 5 Year Limited Warranty
· No Handling of the IR Sensor
· Dry Heat Contamination at 180° for 120 minutes
| | | |
| --- | --- | --- |
| CLS-2447-156 | Incubator, 5.6 Cu. Ft., High Heat Decontamination, IR, Single Chamber, 120V | EACH |
| CLS-2447-156E | Incubator, 5.6 Cu. Ft., High Heat Decontamination, IR, Single Chamber, 230V | EACH |
| CLS-2447-C56 | Castor Platform Only | EACH |
| CLS-2447-S56 | Stacking Platform Only | EACH |