CLS-1438 CELLTROL II CONTROL MODUDLES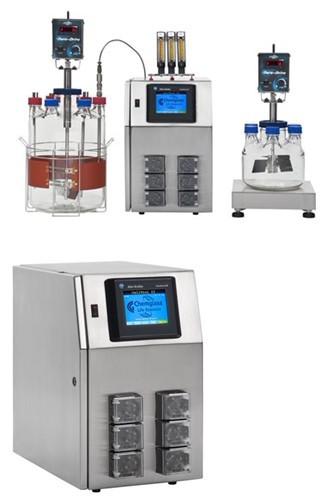 The Celltrol II controls up to 12 bioreactor control loops including pH, DO, temperature, level/foam, weight, and agitation speed. The Allen Bradley PLC based controller provides open architecture for ease of customizing. A touch screen operator interface provides access to all PLC based control functions and allows viewing and modification of the control parameters. Password protection for user configurable outputs. Multiple outputs can be assigned to control any loop. Pump assignments are user defined from the touch screen. Optional software packages are available. Tethered speed drives, gassing stands and weight platforms are sold separately.
SPECIFICATIONS:
Dimensions: 20.5? H x 13? W x 24? D (51 x 33 x 61cm) SST Construction
Power Supply:
· Line Power 115V AC @ 15 Amp
· Frequency 50/60 Hz
· Consumption up to 12amps depending upon configuration
Operator Interface: 6? Color Touch Screen
Input Types: RTD, pH Probe, DO Probe, Foam/Level (Digital Input)
Heater Blanket: 2 @ 600W
Control Inputs: 8 Outlets, 120 VAC
Alarms: Operator Programmable
Communications: TCI/IP Protocol Standard
Pumps: Up to 6 User Assigned Pumps (1, 4 or 10rpm Available)
Celltrol II controller configurations listed below are also available in either 4 or 6 pump configurations. NOTE: Pump rpm (1, 4 or 10rpm) must be specified with order. Please contact your sales representative for pricing and configuration options.
CLS-1438-108
Celltrol II Control Module, 2 pH, 2 DO, 2 Temp, 2 Pumps
Please Call For Pricing
EACH
CLS-1438-109
Celltrol II Control Module, 2 pH, 2 DO, 2 Temp, 2 Weight, 2 Pumps
Please Call For Pricing
EACH
CLS-1438-114
Celltrol II Control Module, 2 pH, 2 DO, 2 Temp, 2 Level, 2 Pumps
Please Call for Pricing
EACH
CLS-1438-115
Celltrol II Control Module, 2 pH, 2 DO, 2 Temp, 2 Level, 2 Weight, 2 Pumps
Please Call for Pricing
EACH
CLS-1438-121
Celltrol II Control Module, 2 pH, 2 DO, 2 Temp, 2 Weight, 2 Speed, 2 Pumps
Please Call for Pricing
EACH
CLS-1438-126
Celltrol II Control Module, 2 pH, 2 DO, 2 Temp, 2 Speed, 2 Level, 2 Pumps
Please Call for Pricing
EACH
CLS-1438-127
Celltrol II Control Module, 2 pH, 2 DO, 2 Temp, 2 Level, 2 Weight, 2 Speed, 2 Pumps
Please Call for Pricing
EACH
CLS-1438-129
Celltrol II Control Module, 2 pH, 2 DO, 2 Temp, 2 Level, 2 Weight, 2 Speed, 4 Pumps
Please Call for Pricing
EACH