CLS-1438-001 CONTROLLERS, TEMPERATURE AND RTD SENSORS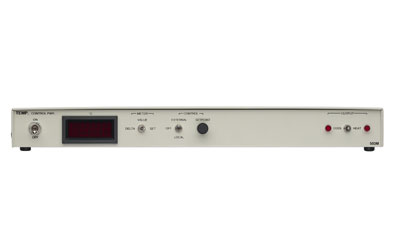 Chemglass Life Sciences temperature controllers are used with heating blankets and RTD sensors to monitor and regulate temperatures according to set point values in bioreactor vessels. Temperature range is 0-150°C with 0.55? LED display panel. Dimensions are 17 x 10 x 1.75?. Input: Platinum RTD 100ohms at 0°C. Power and patch cords sold separately.
RTD Sensors
RTD Sensor fits into a thermowell to register the temperature of the media inside a vessel. It connects to a temperature controller with solenoid valve to activate either a heating blanket for heating or a coil for cooling.
Cooling Valve Assembly
Cooling valve assembly is used to control flow from a cooling bath to a vessel. Supplied with hose barb ends and interface cable.
Power Cord
The Chemglass Life Science power cord is 6?: IEC 60320-1 to NEMA 5-15.
| | | |
| --- | --- | --- |
| CLS-1438-001 | Controller, Temperature, PWM-PID Control, Heat & Cool, 115V | EACH |
| CLS-1438-34A | RTD Temp Sensor, 0.187" x 10", 8' Cable | EACH |
| CLS-1438-34B | RTD Temp Sensor, 0.25" x 10", 8' Cable | EACH |
| CLS-1438-35A | RTD Temp Sensor, 0.187" x 3/4", 8' Cable | EACH |
| CLS-1438-35B | RTD Temp Sensor, 0.25" x 3/4", 8' Cable | EACH |
| CLS-1438-36A | RTD Temp Sensor, 0.187" x 5", 8' Cable | EACH |
| CLS-1438-36B | RTD Temp Sensor, 0.25" x 5", 8' Cable | EACH |
| CLS-1438-37A | RTD Temp Sensor Extension Cable, 6' | EACH |
| CLS-1438-42A | Valve Assembly, Cool Solenoid, 1/4T, 6' Cable | EACH |
| CLS-1438-17A | Power Cord, 6' | EACH |