CLS-3446 OVEN, GRAVITY CONVECTION, BENCH TOP, MULTI-PURPOSE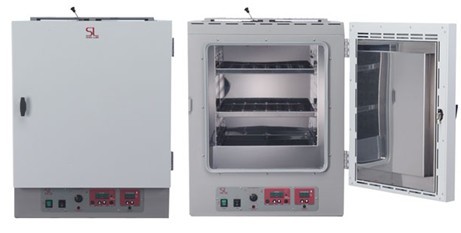 The new multi-purpose ovens are available in both Forced Air (F) and Gravity Convection (G) configurations. Two sizes-3 and 5 cubic feet are available. They feature microprocessor controls and digital temperature display providing optimal stability and allows for accurate control. The controllers have easy-to-use keypad, touch pads and a calibration feature. The set-points have memory capabilities in the event of power outages.
The digital, electronic timer provides the user with the ability to automatically turn off the oven at the end of an application cycle. The timer has a range of one minute to 99 hours/59 minutes and is activated by an independent power switch.
The models have a safety controller is an independent, over-temperature protection (OTP) that operates independently from the main controller. The dual-control, failsafe function means a second system will ensure that temperature set-point is never exceeded. By operating independently, it will take over and control the heating function if the main temperature controller malfunctions.
The bottom of the chamber is solid, thus separated from the heating elements. This important design eliminates danger to the user and prevents damage to the oven from spills. Heating elements are non-contact and low watt density. Applications include: glassware drying, sterilizing, aging testing, stability testing and electronic burn-in.
| | | |
| --- | --- | --- |
| CLS-3446-03G | 3.4 Cu. Ft. Oven, Gravity Convection, Bench Top, Multi-Purpose, 120V | EACH |
| CLS-3446-23G | 3.4 Cu. Ft. Oven, Gravity Convection, Bench Top, Multi-Purpose, 230V | EACH |
| CLS-3446-05G | 5.4 Cu. Ft. Oven, Gravity Convection, Bench Top, Multi-Purpose, 120V | EACH |
| CLS-3446-25G | 5.4 Cu. Ft. Oven, Gravity Convection, Bench Top, Multi-Purpose, 230V | EACH |
| CLS-3446-03F | 3 Cu. Ft. Oven, Forced Air Convection, Bench Top, Multi-Purpose, 120V | EACH |
| CLS-3446-23F | 3 Cu. Ft. Oven, Forced Air Convection, Bench Top, Multi-Purpose, 230V | EACH |
| CLS-3446-05F | 5 Cu. Ft. Oven, Forced Air Convection, Bench Top, Multi-Purpose, 120V | EACH |
| CLS-3446-25F | 5 Cu. Ft. Oven, Forced Air Convection, Bench Top, Multi-Purpose, 230V | EACH |